Lake Havasu is a fun-in-the-sun 45-mile-long playground with hundreds of miles of stunning shoreline, sandy beaches, secluded coves and cool sparkling waters.
A water lover's paradise and a desert lover's dream, 300 days of sunny skies per year with warm, dry air make this a magnet for sun-bathers and watercraft toys such as kayaking, boaters, jet skiers, water skiers, fishing, and houseboating, all year long!
On the Colorado River bordered by Arizona and Nevada and nestled amidst craggy desert peaks, it is one of the Southwest's premier locations for water recreation. Spectacular views and contrasts between the sandy desert banks and the waters of the river are stunning.

Fishing is great in deep water, fringed with coves and inlets, that provides ideal fishing conditions for black and striped bass, crappie, bluegill, catfish and trout. A fishing license from either Arizona or Nevada, to which a special-use stamp from the opposite state is attached, is required.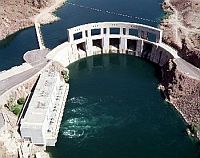 The lake is created by Parker Dam whose primary purpose is to provide reservoir storage from which water can be pumped into the Colorado River Aqueduct (California) and Central Arizona Project Aqueduct.
Over 2 million visitors flock to the area each year to enjoy exploring, and photographing the quiet scenery amid the drama of a desert habitat. Snowbirds love the area and Lake Havasu is frequently referred to as the "Personal Watercraft Capital of the World."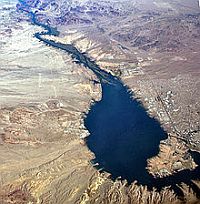 Lake Havasu, the reservoir behind Parker Dam, is about 45 miles long and covers nearly 20,390 acres. It can store 648,000 acre-feet or nearly 211 billion gallons of water.
It has created a major recreational area in an arid region where large natural bodies of water are nonexistent.
A 13-mile section of the Colorado known as Topock Gorge protects desert bighorn sheep, wild burros, bald eagles and peregrine falcons. On the sheer canyon walls, prehistoric Indians chiseled petroglyphs, estimated to be between 1,500 and 2,000 years old.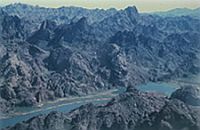 The Topock Gorge is one of the most beautiful sites on the Colorado River. It spans about 20 miles in length south from Interstate 40. If you don't have your own boat, you can rent boats and canoes at the Topock Gorge Marina.
Topock Marsh, part of the Havasu National Wildlife Refuge, is just north of Lake Havasu. The marsh is a major fish and wildlife habitat. When changing water levels threatened to destroy it, Reclamation, in cooperation with the Fish and Wildlife Service, began rehabilitation work in 1965.
Today, inlet and outlet structures control the flow of river water into the refuge, and a dike encompassing the marsh has stabilized the water level. Dredge channels in the marsh have improved deeper and cooler water fish habitat. Artificial islands constructed in the marsh have become home to many species of birds and waterfowl.